About SBI!
As I described in this about me page, I've been using an online tool called Site-Build-It! (SBI!) since January 2009. I can't imagine doing online business any other way. Here's a little bit more about SBI.
With my failed previous attempt to build a jazz guitar lessons website, finding SBI! was a blessing for me: it allowed me to pursue my musical career and create what I wanted, which is the high-traffic jazz guitar lessons website you are reading from now! It's quite ironic that I found out about SBI by accident after all. (-:
As you may know, I am a full-time jazz guitarist living in
Montreal. I play and compose music, teach a little and also take care of (basically) everything on JazzGuitarLessons.net
Yep, that's my life! I must admit, my lifestyle is made possible mostly because of the revenue generated from this website.
Gigging, touring and teaching opportunities come and go, but JazzGuitarLessons.net grows steadily, traffic-wise and income-wise.
Without it, I would be like a lot of local jazz musicians that I know: on the verge of being (or already) broke. For most of them, a month with few to no gigs, a few students cancelling lessons or a hand injury means no paycheck.
But I digress...
My SBI! Story
I've owned this website for 3 years now, and I find SBI! makes online business success do-able for everybody. Anyone, even a guitarist(!), can succeed with the all-in-one process, tools, and guidance.

I was hoping to build a good
jazz guitar
website + generate income ... and I did! It's possible to build an online business on
any
topic successfully with SBI! for that matter... The process works for virtually any subject. SBI! really does change lives. Seriously. I'm not talking about an internal or esoteric "life changing experience" of some sort, but a very concrete change of lifestyle.
Hey, I don't have to work in a restaurant
part-time (and play gigs at night) anymore!
True story : my stint in restaurants lasted for the year after I graduated from *two* different universities with degrees in music (classical and jazz)... then I found out about SBI. ;-)

Talk about life changing!

SBI! made it
real
for me to make money online and create stability (for a jazz musician living in Canada, of all things!)
... working from home!


Best part is, I knew exactly how I would create income from day one. With SBI!, I planned my monetization carefully before even starting to write pages and shoot videos. It gave me confidence and a sense of direction from the very beginning.

If you are like me, now you are probably asking the question:

But, isn't it possible to "make it" online
without

Site-Build-It ? Right.

Well, a lot of people are successful online without SBI! but most of them have prior internet marketing skills. They're not necessarily "everyday people". Of course, I didn't know this at first either. I thought everybody could be an entrepreneur with an internet connection and Microsoft Frontpage!

:-p

The reality is that 99% of non-SBI! online businesses fail, and they are often started (mostly part-time) by people, like you or me, who have little to no experience in web entrepreneurship.

That's why I chose SBI! When you have read a little more about SBI below, I'm sure you'll agree!


What? Seriously?!
Right, now you're thinking "Yeah, but starting a website or blog takes like 5 minutes! I can start my amazon e-store in a breeze."

I know, I know...

In short: YES, there are "easier" ways to build a website. But "easy" doesn't equate to "money" 99% of the time!

Actual online profits require more than just posting a collection of web pages. That was my biggest mistake: my first jazz guitar website and eBook were a big failure! That was before I knew about SBI. I was naive and had to throw in the towel after only a few months. I was part of the 99% that failed.

Working with SBI! (just a few months later) was a complete change of mindset for me. Because it includes all the tools and a proven process required to build a long-term, profitable e-business... SUCCESS! I am now part of the 1%!

The same exact thing happened to a friend of mine (good drummer). He launched 2 jazz websites after graduating and they both "failed" (no traffic or money), then he found out about SBI. He's now working on
DrumLessonLand.com
with SBI tools.


The CTPM Process is the key
See, I believe the problem is that too many non-SBI! sites start without profits being "built into" the process from DAY 1. Beginning with the right process puts people on the right track:



This is the underlying, logical and powerful process underneath it all. It capitalizes upon the fundamental realities of how people use the web. Chances are, doing it on my own, I would never have used this effective formula to finally reach the oh-so-important "M" at the end. :-)


So, C

T

P

M
will put your website on a solid, profitable foundation.



It sets your aim straight if you want to create a website about a topic you know and love (and make money from it, of course.) You don't need to be a "net wiz" to succeed. Simply put : SBI! provides the tools and you provide the
B-A-M
(brains and motivation!)

That's the jist of it. Because this is a jazz guitar website, I won't go into too many details. Nevertheless, I wanted to give you an idea and mention a few SBI features and how they can apply to ... building
your own income generating website!


Enjoy!


About SBI : What is it?
A Short Review of SBI!
Preparation is key to owning, running and making your online business successful.
SBI!
is the
only
product that takes the time to prepare you for building a profitable business,
before
you jump into building your site.

To facilitate the work, most of the "technical" stuff is taken care of automatically. It allows you to keep building your business instead of constantly fixing glitches.
The many automated functions makes it possible for you to know nothing upfront about SBI or building a website and succeed.
In short, all you have to do is learn about SBI and how to use it. The "under-the-hood" stuff is handled automatically: you simply focus on the (important) business-building tasks!



Brainstorming First :
SBI! includes a step-by-step process called the "Action Guide". It is available on the website in both written and video formats. The
Action Guide
is
very
clear, thorough yet easy to understand. All you have to do is follow it.



Most successful SBI! website owners (including me!) say : "All I did was follow the Action Guide." This
Guide
will ensure you don't get sidetracked, or have to guess what to do next.

You'll also use three more
SBI! tools
to setup your web-business :
they will
help in planning the best possible e-business for your needs.


Brainstorm It!
is the "keyword and research" tool :

It ensures that your site concept is profitable enough (in $$$) before you get started with building. Simply by using it, you are "saved" from making a poor decision (which is an all too common fatal error...)
Brainstorm It! will also find related topics to attract traffic and generate income.
The other tool,
Niche Choose It!
, is your final decision-making tool :

Using a complex decision-matrix theory, it makes choosing the best niche for YOU simple... and flawless!
Finally,
Monetize It!
:

It helps you choose the best money-making options for you. Monetizing accurately and from diverse sources is key in maximizing your income. This makes your site profitable and ensures long-term growth.
In short, that first crucial brainstorming phase (when using the
Action Guide
and learning about SBI) will make sure you
find YOUR OWN business idea and make it work!
Then Build Your Content :


Once you brainstormed your soon-to-be website, you are ready to build quality web content.

Page creation is a breeze : almost like riding a bicycle with training wheels!
No need to know HTML.
Writing "by blocks" (in plain text) trains you to create quality web pages. Building block-by-block is perfect for beginners, but many "advanced" users start with this tool to break bad habits!

The result is your site being both "Search Engine and human friendly."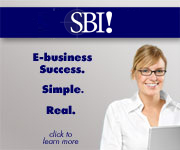 This is simple, do-able and most importantly,
effective site-building.


Advanced webmasters: SBI! is also compatible with all the popular HTML editors and image tools.

You can use advanced website building techniques if you'd like. Design and create the way you're used to (then simply upload to SBI!) This allows for maximum creative flexibility for all skill levels.

But don't worry if you've never designed a website before : SBI! provides fully customizable, easy-to-use templates. You can choose (and use) a professional-looking presentation, without having any design skills.

The website you are reading now was created from a nice SBI! template (and I still don't have any design skills myself!) More templates:
Here's a range of styles
(actual SBI! websites).

Oh, I almost forgot
about SBI hosting!
Fast, reliable, state-of-the-Net website hosting is included with the SBI! "package".
Web hosting is included, no nonsense, no hidden clauses.
Getting

Real

Traffic :


SBI! websites are found by Search Engines,
rank well
and have lots of visitors every day. Why? Simple: they are well built and analyzed before going online!

So what's the "big fuss" about ranking?

Good Search Engine ranking is crucial in attracting relevant, targeted visitors to your website. (Targeted visitors = people who are actually searching for what you have to offer!)

Using SBI! you can track not only the amount of traffic your website gets daily (like
most "regular" web hosting providers
), but you can also learn
how
people find your website ...

... and more importantly : you can also track "where" your website stands in the thousands of search results.

Confused?

For example, many pages on JazzGuitarLessons.net are in the "Top 10". Try it yourself : open a new browser and type any of the following in a Google search. You'll see me in there... on the first page.

Jazz Guitar Articles
Jazz Guitar Blog
Jazz Guitar Greats
Jazz Guitar Lessons
Jazz Guitar Standards
etc.

It's important to have your website "rank well" in search results. It's crucial to be on the first page (top 10) of search results for keywords relevant to your site concept ... or else you don't get any
real
traffic!

The beauty about SBI : simply by using the
C

T

P

M
process correctly, ranking, traffic and online success basically take care of themselves. With good rankings from the start, you can put more time and energy in other traffic-building strategies.
Of course, better rankings
= more targeted traffic
= more potential for profit!
As your e-business attracts more and more daily visitors,
Traffic Stats
and
Click Analysis
help you understand what they like most. Understanding your visitors helps you know what to write about, which in turn leads to more and more
business
for you.



Pre-Selling


PREselling is a concept "invented" by SiteSell, part of the
Content

Traffic

Pre-Sell

Monetize
process discussed earlier. It's one of the nicest things about SBI. The idea behind preselling is simple :


As an ordinary person, how can you develop a "name" that
is known and trusted? If you are not
Coca Cola
or
Apple
,
how can you attract visitors to your website and
have them do business with you?
PREselling is the answer!

As small business people, you do not have a brand name. So you have to build that
before
you can monetize. Seems obvious, right? Yet, so few people do it, or they don't do it right ... online. When working with SBI!, you'll come to understand much more about that concept.

Preselling is all about creating a virtual bond with your visitors (the same way your local baker or barber connects with his customers on a genuine human level.) SBI! includes all the tools you can possibly need to strengthen than relationship with your visitors :

Email adresses (@yourdomain.com);
Easy-to-use form builder with autoresponders;
Contact forms, surveys, and polls;
List-building and e-mail marketing (e-zine) are included;
etc.
Having these tools all in one place saves you time and expenses, too. Usually these expensive features are bought separately (when dealing with
other popular www hosts
).

All of this, and especially sending own your own e-zine, will increase the "exposure". It builds a stronger bond with your visitors and allows for direct promotions to them. Deeper PREselling = More Monetization. That's the great feature about SBI.
Finally, SBI! has a no-risk, 90-day money back guarantee.
It's a risk-free decision that you can make with confidence and peace of mind. That is more than 12 weeks (or 3 months) to take the "test drive!" If you don't like it, you can get a full refund immediately.
Take the video tour and find out more about SBI :